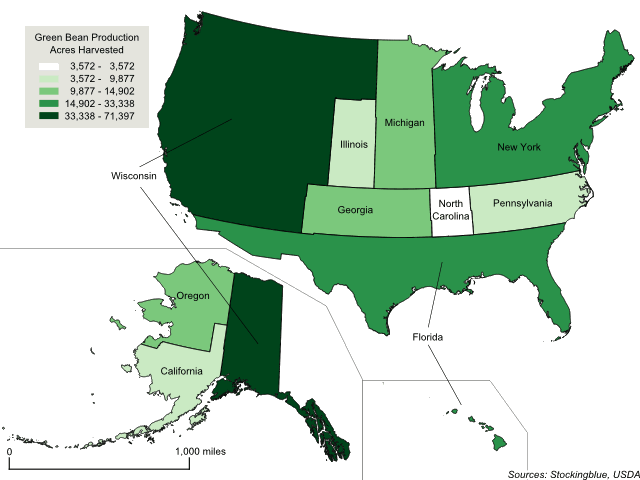 This week, the focus is on common Thanksgiving foods and which states produce them. The geographically accurate cartogram above redraws the states' sizes based on green beans production. Specifically the number of acres harvested. Only 10 states produce the bird and of the 10, the USDA publishes complete data on only six of them due to the other four states having few producers which would make it easy for their competitors to know how large their operations are.
Findings
Of the states data is available for, Wisconsin harvests the most acres of green beans accounting for over one-third of the nation's total acreage dedicated to the crop.
North Carolina harvests only 1.78 percent of the total acreage dedicated to green beans in the nation.
The second largest green bean producing state, Florida, only makes up 17 percent of the total.
Caveats
The agriculture census data is from 2012.
The following states do produce green beans but the USDA does not release full production numbers for all of the different sizes of farms and thus the numbers are smaller than the actual acreage: Illinois, North Carolina, Oregon, and Pennsylvania.
The following states were not listed as green bean producing states and thus do not show up on the map: Maine, New Hampshire, Vermont, Massachusetts, Rhode Island, Connecticut, New Jersey, Delaware, Maryland, Virginia, West Virginia, Ohio, Indiana, Kentucky, Tennessee, South Carolina, Alabama, Mississippi, Louisiana, Arkansas, Missouri, Iowa, Minnesota, North Dakota, South Dakota, Nebraska, Kansas, Oklahoma, Texas, Montana, Wyoming, Colorado, New Mexico, Arizona, Nevada, Utah, Idaho, Washington, Alaska, and Hawaii.
The choropleth classification is based on Jenks or natural breaks.
Details
On the one hand, it seems as if this is a versatile crop as it is grown in states with very different climates, on the other hand, only 10 states bother with growing it.
The total reported area dedicated to the crop in the United States is 201,154 acres or 314.30 square miles.
Data
| State | Acres Harvested | Percent of US Total |
| --- | --- | --- |
| Wisconsin | 71,397 | 35.49 |
| Florida | 33,338 | 16.57 |
| New York | 27,927 | 13.88 |
| Michigan | 14,902 | 7.41 |
| Oregon | 12,753 | 6.34 |
| Georgia | 11,213 | 5.57 |
| Pennsylvania | 9,877 | 4.91 |
| California | 9,418 | 4.68 |
| Illinois | 6,757 | 3.36 |
| North Carolina | 3,572 | 1.78 |
Sources
United States Department of Agriculture. 2017. "USDA/NASS QuickStats Ad-Hoc Query Tool." Accessed November 19, 2017. https://quickstats.nass.usda.gov/?source_desc=CENSUS.