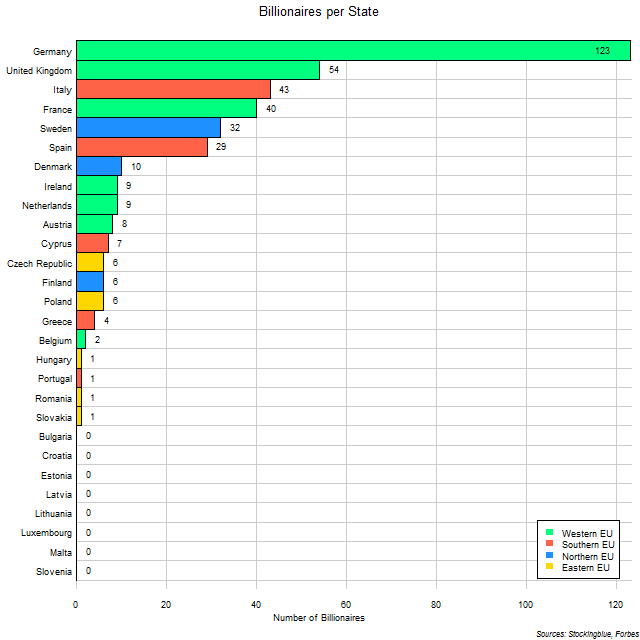 The chart above shows the number of billionaires in each EU state. Germany is the only state to have more than 100 billionaires.
Findings
The difference between the state with the most billionaires, Germany, and the states with the least (that do have billionaires): Hungary, Portugal, Romania, and Slovakia is 122.
Germany has 123 times the billionaires that Hungary, Portugal, Romania, and Slovakia each do.
The median number of billionaires in the 28 EU states is 5.00 and the mean 14.00.
Germany has nearly one-third of all the billionaires in the Union.
Germany, the United Kingdom, and Italy account for half the billionaires in the EU.
Bulgaria, Croatia, Estonia, Latvia, Lithuania, Luxembourg, Malta, and Slovenia do not have a single billionaire.
Caveats
Data is from 2018.
Individuals on this list are people with a net worth of over one billion US dollars.
Details
Three-quarters of the EU's billionaires reside in six of the 28 states: Germany, the United Kingdom, Italy, France, Sweden, and Spain.
The Eastern EU is the only region without a state with more than 10 billionaires. The Czech Republic and Poland, the Eastern EU states with the most, only have 6. The Northern EU is the only region to not have a state without any billionaires.
Sources
Forbes. 2018. "The World's Billionaires List." Accessed October 2, 2018. https://www.forbes.com/billionaires/list/21/#version:static.