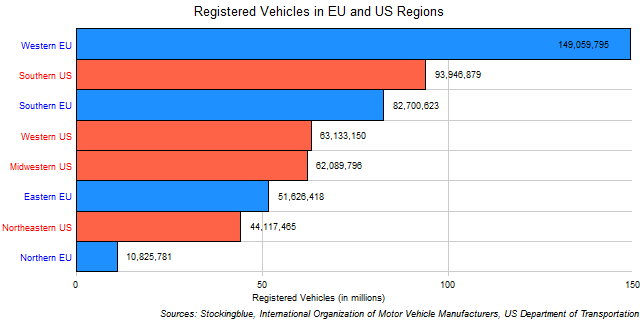 The chart above shows the total number of motor vehicles in US and EU regions. The Western EU has by far, the greatest number of registered vehicles in both the EU and the US.
Findings
The difference between the region with the most vehicles, the Western EU, and the region with the least, the Northern EU, is 138,234,014 vehicles.
The Western EU has over 14 times the number of vehicles that the Northern EU does.
The mean is 69,687,488 and the median 62,611,473.
Germany, the state with the most vehicles, has four times the number of vehicles that the entire Northern EU does, just a bit more than the entire Northeastern US has, and just under what the entire Eastern EU has.
The Western EU and the Southern US and Southern EU together account for just over half the vehicles in both the EU and the US.
Caveats
The data is from 2015.
Total vehicles include automobiles, taxis, buses, trucks, and motorcycles of both public and private use.
The Western EU consists of Germany, United Kingdom, France, Netherlands, Belgium, Austria, Ireland, and Luxembourg.
The Southern US consists of Texas, Florida, Georgia, North Carolina, Virginia, Tennessee, Louisiana, South Carolina, Alabama, Kentucky, Oklahoma, Arkansas, Mississippi, and West Virginia.
The Southern EU consists of Italy, Spain, Portugal, Greece, Cyprus, and Malta.
The Western US consists of California, Washington, Colorado, Arizona, Oregon, Utah, Nevada, New Mexico, Hawaii, Idaho, Alaska, Montana, and Wyoming.
The Midwestern US consists of Illinois, Ohio, Michigan, Indiana, Minnesota, Wisconsin, Missouri, Iowa, Kansas, Nebraska, North Dakota, and South Dakota.
The Eastern EU consists of Poland, Czech Republic, Romania, Hungary, Slovakia, Bulgaria, Croatia, Slovenia, Lithuania, Latvia, and Estonia.
The Northeastern US consists of New York, Pennsylvania, New Jersey, Massachusetts, Maryland, Connecticut, New Hampshire, Delaware, Maine, Rhode Island, and Vermont.
The Northern EU consists of Sweden, Denmark, and Finland.
Details
Only the Western EU and the Northeastern US have at least 50% more vehicles than the regions that rank just under them: the Western EU has 59% more vehicles than the Southern US and the Northeastern US has 408% more vehicles than the Northern EU.
The total number of vehicles for both the EU and the US, according to this data, is 557,499,907.
Sources
International Organization of Motor Vehicle Manufacturers. 2018. "Vehicles in Use - OICA." Accessed January 20, 2018. http://www.oica.net/category/vehicles-in-use/.
United States Department of Transportation. 2018. "Table MV-1 - Highway Statistics 2015." Accessed February 20, 2018. https://www.fhwa.dot.gov/policyinformation/statistics/2015/mv1.cfm.